It's Who You Know
by
Egatz
April 17th / [18]75
311 East 23 St
[New York] City.
Dear Doctor
Allow me to a few words in regard of my present condition. Dr Webster notified me your decision the other day, telling that it would be better for me if I could get some kind employment this summer for self-support. Undoubtedly it is a well thought suggestion to me which really makes me think that without going out [of] the city or searching such employments here, to which perhaps I have not the slightest idea about its management, I can stay where I am, keep up my studies, and make out my expenses, providing that I am recommended to have such employment that would stand in the neighborhood of my profession, namely, cupping and leeching.
I tried to get a situation in the Hospital but could not obtain it on account of not being [a] graduate, and so I took the spring course.
I feel that I have more or less troubled you often, if not always, but knowing that you would not withhold any serviceable thing that is in your power to do it, here I propose to ask your kind recommendation to Professor A. Clark and some other practitioners, that they should employ me in cupping and leeching. I believe that Prof Clark has [a] large practice and very likely I will get enough to pay whole my expenses.
I hope you will be kind enough to write a brief letter to him and send it to me so that I may personally present it to him. Remember me to all.
Yours Truly
M. Kreecorian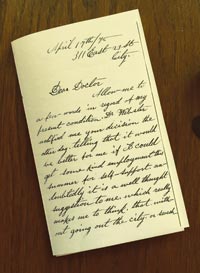 I found this letter stapled to a bookcase in Bruised Apple Books of Peekskill, New York, one of the last of the old time used bookstores in the greater New York area which I still frequent. Andrew Acciaro, Manager and poet, will not part with this letter for love or money, and it's my favorite item in the store. Written in 1875 and slipped into a novel over 100 years ago as a reminder, a bookmark, a memory—we'll never know—until it fell into Andrew's lap as he was sorting incoming inventory.
What research reveals about the letter, and the lives of people who need employment to survive, is that a man living in New York City named Kavork Muggerdich Kreecorian was reaching out to someone he knew. Half-plea for employment, half-testament to the struggle to better his education as a steppingstone to better employment, the crux of this missive would today be distilled into a three sentence email. I need work. I'm continuing my education/training. Will you please write me recommendations?
Time has passed, but the struggle to earn a living remains the same. Here's some further—but more recent—time travel regarding the hunt for jobs in and around the same city.
The New York Times was the place to look for a gig when I first entered the job market. The Gray Lady's Classified section had it all, including the areas of interest to me. Here's what I found every Sunday morning.
Entry-level jobs in publishing were advertised at annual rates literally below minimum wage. I still don't know how they got away with that, but at the time, I did the math on a few offerings, and I factored it sans overtime hours.
Graphic design jobs in decent agencies and studios paid a salary you could live on, especially if you were willing to live with your parents in the suburbs after college, which wasn't common then.
Contract consulting gigs were the holy grail, and if you were a genius in your area of expertise, it was not unheard of for a 24-year old wunderkind to grab one. Remember, this was before the Internet opened up beyond .edu domains, and it took a lot more capital than a kid coding an idea to turn a notion into a corporate reality. A 24-year old with a genius for database programming had options. It was, however, after non-mainframe computers started to be used by business mortals.
When you found a listing you wanted to apply for, you put a paper version of your resume and a cover letter into an envelope and got it in the mail as quickly as you could. Then you waited. We had a lot of time back then, because we were not slaves to a small computer we took everywhere with us and constantly checked for updates largely irrelevant to our daily lives.
Almost always, you got back a letter in the mail from your prospective employer. They hired staff to do such things back then. It was typed on an electric typewriter or printed by a laser printer, and signed by a human who was trained at a young age in cursive handwriting. The letter thanked you for your time and effort in applying. Then, it went one of two ways. Yes, they wanted to meet you in person, or no, you were not right for their needs at this time, but they promised to keep your resume on file. The author of the letter wished you the best in your continued search for employment, food, and a roof over your head.
You didn't rely solely on the Gray Lady. Even if an employer wanted to meet you, you still continued to call every human you knew who might be able to help you find a job in a field you were vaguely interested in. We didn't call it networking. We called it a friend helping out, and for their efforts they got your thanks and a dinner out, plus drinks. If you, your family, or your friends had no contacts who could help out, the food service industry was always hiring, and the minimum wage versus inflation at that time still allowed you to purchase a copy of The New York Times.
When you search for a job today, you're lucky to get any response at all, positive or negative. This is why who you know on the inside is more important than ever. What was only whispered at from the mid-nineties onward is now being openly written about by reputable journalists and industry experts: who you know and who they know is becoming more important than how many degrees you have. As with many aspects of the American Dream, the struggle to afford a formal education for your children is not appearing to have the payoff previous generations believed.
Depending on which sources you cite, seventy to eighty percent of new job hires happen via what we now call networking. To further compound the importance of dealing directly with a contact you might have within a company, sources indicate up to eighty percent of available positions aren't even advertised publicly.
The job opportunities that are advertised on major job sites such as Monster.com, Indeed, and others, are often bogus. Worse than simply being nonexistent positions to drive traffic to their hosts or trying to build their databases of desperate job seekers, they're often scams looking for the unemployed to pay them.
Job sites aren't the only culprits job seekers have to navigate. As corporate America continually races to improve profits, they outsource whatever they can to the lowest bidder. This often includes human resource staff. An unnamed friend of mine recently applied for a job at his old employer, where ten years earlier, he was in charge of their corporate site, a subscription-based portal with a staggering amount of forward-facing data. With two current employees pulling for him, he received a form email saying they weren't interested in even speaking to him about a lesser position.
As in the above example, sometimes even who you know isn't enough to get your foot in the door. I have a twenty year freelance relationship with a client. One of the partners and I are very close. He had a difficult time getting his minions to hire me to write and direct a short corporate film. Whom else do you need to know above and beyond a senior partner to land a gig?
Who you know also works on the other end of the employment spectrum: protection after you're hired. And rehired. One enthusiastic reader of The Egatz Epitaph was incapable of obtaining an associate's degree, but managed to leave a job as assistant cook and move to a white collar career in the firm his mother worked at. Not only did he resign twice, but was hired back twice via friends he made on the job. Third time's the charm, I suppose.
When searching for work in the United States today, it's definitely who you know. This has obviously been true since the Dutch came looking for beaver pelts in the 17th century, but it's true more than ever today. If your immediate circle isn't producing interviews for you, start attending professional gatherings as you diversify your skill set on your own time.
There's an old practice I've done repeatedly when people find me a new consulting client, and it can't be stressed enough. Reward your friends. I've written checks as finder fees. I've watched dogs and watered houseplants. I've dug and installed French drains. A Seattle friend once negotiated a large deal for me in his spare time many years ago, as a favor. When the deal closed I sent him $5000. I appreciated his efforts, and I've got a friend for life. He wasn't expecting a check, but the deal wouldn't have been as successful if he hadn't gotten involved. It was the right thing to do. If a friend goes out of his or her way to help you land a paycheck, you owe them. Pay them back in a way they'll appreciate. As with anything, it's negotiable, and I've found favors are sometimes more appreciated than cash.
Kavork Muggerdich Kreecorian originally hailed from city of Tokat, in northern central Turkey, which he left behind to pursue the American Dreams of freedom, education, and prosperity. He studied at Columbia College under Dr. Cornelius R. Agnew, an eye and ear specialist, during the 1873-1874 academic year. One year after he wrote the surviving letter asking for help seeking employment, Kreecorian graduated from the College of Medicine at New York University. Talk about the fast track.
Records conflict regarding his birthdate—either 1849 or 1851—so Dr. Kreecorian was 24 or 26 when he wrote to his unnamed doctor/mentor. That physician may or may not have been the person who placed it in a book where it sat for over a century, and whose descendants started a chain of events which brought it to the Bruised Apple bookstore in Peekskill. Kreecorian went on to become a member of the Nebraska State Medical Association and married a woman named Margaret A. Kelley. The first doctor to open a practice in Farnam, Nebraska, Dr. Kreecorian died in Chicago on 2 June 1911 and is buried in Butler, Pennsylvania.
Kavork Kreecorian achieved his dream of employment practicing cupping and leeching, became a physician, and touched the lives of others as he earned a living, far from where he asked for a mentor's assistance to find a job. I like to think the recipient of the letter happily gave the help Kreecorian requested.