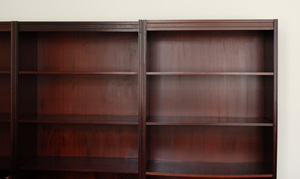 It's an interesting time for the publishing world, to say the least. Those with e-book aspirations—authors, publishers, and e-book sellers (Amazon, Apple, et al.)—continue to jockey for front row seats to watch the continued implosion of retail giant Barnes & Noble. Posting a fiscal first-quarter loss, the vultures continue to circle the B&N carcass. Some, like investor Ronald Burkle, are already on the ground, and eating the cadaver from the inside out in hopes of wresting control from the bewildered Riggio brothers, Lenny and Steve. Others, like Amazon and Borders are moving forward with their own somewhat misguided plans as they wait to see what a Riggio-less Barnes & Noble will be like. Can new owners embrace emerging technologies and business models, or will the shakeout end with Barnes & Noble becoming as relevant as the vinyl retail business? The smart money is staying in other pockets.
On Tuesday the news for Barnes & Noble investors was not good. The quarterly loss was steeper than expected, and the proxy battle between the Riggio regime and Burkle is costing significantly. Stock hit perilously close to the $13 per share mark. It's hard to know if Burkle is rubbing his hands together in glee or strategically placing his mouth beneath an open sangria spigot. Still, the stock is trading better than their previous 52-week low of less than $12 per share. As the eighties taught us, even the rotting carcass of a behemoth is worth something. The trick, as always, is to pay less than what you can carve up the pieces for.
Running a brick and mortar store is expensive. There's the nasty issue of employing humans. Humans who actually know something about books is another issue altogether, and the problem of ever-increasing rent is a different nightmare altogether.
Let's take the former, for instance. As Circuit City learned, the lower you pay your employees, the lower the quality of those employees. That formula equals a consumer retail experience lacking, at best, and your customers will go elsewhere. For those of you who missed it, Circuit City imploded into bankruptcy when upper management got a unique idea to reduce costs in effort to continue quarter on top of quarter profits. In the worst economic crisis since the Great Depression, this is an impossibility, of course. You don't need an MBA to assume durable goods such as larger flat panel television purchases are going to be put on hold when one or both parents are out of work.
The geniuses at Circuit City figured out a way to trim costs, though. They fired retail staff who had been loyal employees for years. Longtime workers who earned a few bucks per hour more than minimum wage and had acquired a deep understanding of products, installations, and technology they were charged with selling were given the axe. What upper management and consultants didn't grok was the simple fact customers relied on knowledgeable floor staff to get reliable information. Sometimes "out with the old and in with the new" is a good strategy, but not regarding salespersons who know what they're doing.
Deceased founders Samuel S. Wurtzel and Abraham L. Hecht rotated in their graves as the minimum wage brigade replaced staff who were valuable to the buying public. In-store product knowledge went out the window. Customers voted with their feet once they realized they could get more information about products via the Internet. Hello, Amazon! In January, 2009, the last 30,000 staff were let go, thus killing a company started in 1932, in the heart of the Great Depression. Better or worse?
As we see malls closing around the country and big box chains being made irrelevant by the power of consumer reviews on the Internet, the writing is on the wall in flashing neon. For the quarter ending 31 July, Barnes & Noble posted a loss of $62.5 million, or $1.12 a share. Advice to the Riggio family: start moving cash into off-shore accounts. Advice to Barnes & Noble staff: bust out those dusty resumes and start getting more creative than your soon-to-be former employer. As a lover of books, I can only hope I'm wrong, but I'm not betting that way.