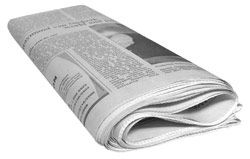 The final trains are leaving the station for the land of prosperity, or, at least, survivability. Now it's time to see if newspapers and magazines will climb aboard. Whether they'll be left behind remains a question of choice for these industries which have operated largely without change for most of their existence.
The exciting news over the past two weeks has been Apple's alleged forthcoming subscription-based model for periodicals. The smart money has known for at least a decade the corner newsstand will be something art directors and production designers of the future will have to reference archival photos for when they're told to recreate one for a period piece. Perhaps history will repeat itself with the Great and Powerful Jobs riding in on a white horse to save the newspaper industry the way he saved the music industry.
Now, before I get another wave of nasty email, here's a history lesson. Decades of corporate inertia plus Napster equalled the death knell of the old recording industry, not the iTunes Music Store. The genie was out of the bottle once Audion and similar ripping software was released. When consumers realized they could copy music off compact discs easily on their computers, there was no turning back, and Tower Records, Sam Goody, HMV, and Virgin MegaStores were counting calendar pages until they'd be closed forever. Even with the death of Napster, thanks largely to the elfin and angry Lars Ulrich, music file swappers moved on to other technologies, such as peer to peer file sharing applications.
In 1900 there were at least twenty daily newspapers in New York City. By 1940 there were eight. Today, there are essentially four major players, two of which are rightwing tabloids with laughable journalism. Thanks to television, the general rule in America since the mid-1950s has been the younger the individual, the less he/she reads. The audience still picking up a newspaper is marching off the cliff of extinction. Their disappearance is, if nothing else, a mathematical certainty.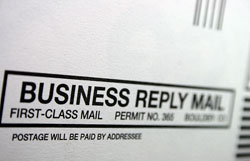 Newspapers are yesterday's news today, and they're unsearchable, unlinkable, and static. The magazine industry has its own similar but different woes. Paper-based magazines are getting thinner in both advertisements and feature articles. Most are well over five bucks and heading for the ten dollar mark. Even though Apple is looking for their 30% cut, Jobs and company appear the best hope imaginable for newspapers and magazines at this point. No other cavalry is in sight to charge down the hill and save the day, that's clear. Remember, we're talking about two industries which boast the blow-in subscription card as their last major technological push for a larger readership.
Apple has the chance to make newspapers and magazines happy again, not to mention profitable. With a set of consistent user interface guidelines and a proven software developers' toolkit, there's no reason periodicals can't quickly disseminate their content into an iBookstore-friendly format. The rumor mill is ripe, and there are arguments for three viable approaches.
Subscriptions will be distributed through the iBookstore application.
Subscriptions will be distributed through a publication-centric stand-alone application, such as Wired's monthly offering.
Subscriptions will be distributed through Apple's own subscription-only application similar to iBookstore.
Bloomberg claims Apple's going through a digital newsstand storefront (option 3 above). The Wall Street Journal also believes this approach is the way Cupertino will go.
The real sticking points in the negotiations are not just revenue, but data. Periodicals are desperate for the demographic information they suck from their customers in order to target sales efforts at them. Apple has a reasonable responsibility to protect the information they suck from their customers. You can bet a lot of lawyers are billing a lot of hours as the negotiations drag on to determine how much Apple is willing to sellout their customers' stats.
Reports in The Wall Street Journal and other sources claim Apple is using a full-court press to get newspapers to sign on the dotted line. As those of us who are self-aware know, the hardest thing in the world is to give up control, but when your business model hasn't changed in hundreds of years and you've failed to innovate yourself, the time has come to partner with someone who can keep the ship afloat. Condé Nast, Hearst, TIME, and others have been approached to join Apple's subscription model. The content providers haven't been able to see the future, nor to see the present, and it's time they play ball. The cliff is getting closer, and countless newspaper-reading seniors march over the edge every day.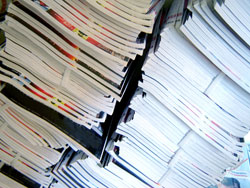 The transition will not be as smooth as wet glass. Sports Illustrated's application-based approach only supports landscape, or horizontal viewing in it's most recent issue. Previously, other issues rotated between both portrait and landscape mode. They went horizontal-only to save both money and file size. AppleInsider reports this was primarily done because "Apple does not allow iPad subscriptions at 'a reasonable price.'" A reasonable price is always debatable, but when you cut paper costs, physical distribution via trucking fleets, postage, regional advertising breakdowns, etc., into the equation, 30% for Apple doesn't seem unreasonable. The New Yorker gets it, and has just announced their own iPad app.
If periodicals had any doubt Apple is around for the long haul, yet another American Customer Satisfaction Index report once again has Macs trouncing Windows-based personal computers in consumer satisfaction. Further, iPad is the highest-ever scoring product ACSI has measured to date. AT&T CEO Randall Stephenson announced there's over half a million G3 iPad users on his network. Even Google, which as of late seems bent on moving into Apple's sandboxes in any way possible, is making Google Docs accessible to iPad users. The projected numbers of future sales of iPad are off the charts. Apple has realized the perfect vehicle for consumers who don't want to worry about font management, software drivers, or anything else under the hood.
In 1984 Apple released "the computer for the rest of us," with the 128k Macintosh. The command line interface was forever banished to computer programmers, engineers, and anyone who wanted to get under the hood for whatever reason. Real world users—mere mortals—flocked to the Mac to get things done. With the iPad in particular, they've done it again. Every day users are realizing that for reading, Web surfing, moderate email, the iPad can replace the laptop most casual computer users have. Even the Huffington Post has run a story pointing to five "gadgets" the iPad kills, including Amazon's Kindle.
Microsoft's stock is down below $25 per share. Apple's market cap has grown to $240 billion. MarketWatch is calling Apple "a Death Star," and likens it to gobbling up whatever comes into its orbit. With the Street—which has historically underestimated Apple for the last 25 years at least—finally getting behind the company which did no less than the way we live, it seems there's now the hope our declining national news media and associated publications will embrace curing some of their problems with Apple distribution via the iPad, as opposed to watching their own symptoms get worse. Fatality is inevitable if they don't. Ask my friends who worked at Gourmet magazine, or other Condé Nast publications which have become a memory in the past two years.