I'm in Los Angeles, and alone in this city for the first time in almost twenty years. I read at the beautiful Ruskin Arts Club for Red Hen Press to promote Beneath Stars Long Extinct.
The woman I love, my wife Jenn, is a Los Angeles native, and she's not with me this time around. The last time I was in her hometown alone, I was a young unpublished writer working on my third book of poetry. It's a good chance I was more crazy than I am now, which, after this summer, is pretty hard for me to imagine. That summer I was last in L.A. alone, we were trying to claw our way out of a recession, and I was hiding out in graduate school, learning about writing and literature. Actually, things don't feel that different, but I digress. Again. I ended up driving through the bombed-out aftermath of Los Angeles Rebellion, a Thompson Guide on the passenger seat of a borrowed car, and I got a tattoo on La Brea.
I truly hated Los Angeles that year I was an young angry dope, and had for a long time before then. Uniformed and basing my opinions on third-hand information, I was not unlike some redneck talking about burning some other group's literature without having read, understood it, and put it in a historical context. To me, with my classic New York centrism, the entire L.A. basin was a place that had lots of sunshine, amazing produce, and none of the culture I thrived on.
Fast forward about fifteen years. I fell in love with a Los Angeles native I met on a Caribbean beach. A few years later, I promised I would do everything in my power to make her happy for the rest of our lives. Some days I can. Often I fail, but I'm too crazy to stop trying. I think she's worth it.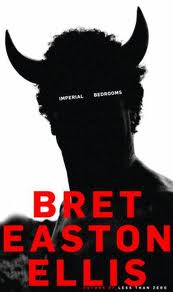 On my flight to L.A., and had an iChat video chat with an old writer friend who admonished me for not yet reading the latest Bret Easton Ellis novel, Imperial Bedrooms. There I was, heading into the place Ellis had busted out of—via Bennington—in 1985 with Less Than Zero. Whether you're friend or foe to that novel, it helped define a generation, and it impacted, directly or indirectly, most of us who were young writers when it was published. The scene with a billboard reading "Disappear Here," pretty much summed up the tenor of the novel and other work Ellis has since published. Released on 15 June 2010, critics had the typical mixed bag of positive and negative reviews. Fans of Less Than Zero undoubtedly were thrilled at the notion of finding out what's happened to those characters twenty-five years on. Talk is in the air of a film, but it will be hard for Hollywood to unscrew how badly it deviated from the original novel with the film they passed off under the name Less Than Zero.
When I arrived in Los Angeles this time, it was overcast and twisted. I visited a few places I cared about, wondering what the hell I was doing here without my native driver who knows the traffic patterns better than she knows herself; the woman I want to grow old with.
Sleep-deprived, I drove around Rosecrans and Aviation, looking for something to read in order to get my mind off my own poems for the next day's reading, and some new poems I've been working on about the said woman I love. I kept thinking Imperial Bedrooms would do, based on my friend's recommendation. When in Rome, right? I headed over the Manhattan Beach Barnes & Noble. I figured the Riggio family could use a little money, so I'd contribute to the cause to help out my old employer who was going down the tubes.
Being a poet, I first tried to find the poetry section. Typically relegated to the rear of a store between the civil servant guidebooks and the fanatical religious tracts, poetry doesn't deserve much spotlight in the eyes of retailers because they don't move many units. Can't blame them for that. It's the publishers and the educators who have done this to that form of art for the past hundred years, but that rant's best left to another time.
The poetry section at this store was more dismal than usual. Many of the shelves throughout the store seemed understocked. Even the fiction section was jammed toward the rear, like a bad afterthought. A young surfer boy was behind the e-reader counter. He couldn't fix an old man's Nook. "Well, it's got the bars, so that's not bad," I heard him say. The grandfatherly-type gentleman was at the end of his rope. I could practically hear him thinking, "I just want it to work." Then he said, "I don't understand why it just doesn't work." I wanted to whisper in his ear, "iPad," but strangers whispering into the ears of old men are not appreciated, even in the most liberal enclaves of Los Angeles.
Does anyone else notice how bad the branding on the Nook is? The typemark is a lowercase sanserif "n," which looks largely like a hump, speed bump, or a roadblock. Is that the positive image you want to get people to adopt new technology? Another blunder by Lenny Riggio and team. Keep trying guys. Maybe you'll get it right before you're out of jobs, but it doesn't look promising.
If the Manhattan Beach Barnes & Noble didn't have Imperial Bedrooms, I shouldn't be surprised when it didn't have other titles I was looking for which had been published before 15 June of this year. There was an earnest but sad magician doing card tricks at the front door while trying to plug his novel about a a magician. He asked a young boy to pick a card, and then he couldn't identify the child's card from the deck. Things would only get worse the longer I stayed. Time go to.
I got something to eat, and drove around the L.A. basin for awhile. The platinum sky eventually got darker, until it turned misty and somewhat frightening. At another point in my life, I'd call it romantic, but there was nothing romantic about this or my headspace. Going to places which remind me of the woman I love, I was wandering, lucky to have my rental car. With too much ingrained existential sadness, I realized why the homeless talk to themselves and unseen people.
Eventually I was in a parking lot of yet another string of retail operations. A Borders sat before me, the former pride of Ann Arbor. Inside, the selection was better than Barnes & Noble, the sections laid out a little more efficiently, and the whole thing just felt better than my book search earlier in the day. Their poetry section wasn't as robust as it had been in the mid-nineties, when they offered a wide range of literary journals and many independent publishers.
Unlike B&N, it was easy to find a copy of Imperial Bedrooms. In fact, they had a lot of copies, and that got me depressed thinking Mr. Ellis was still carrying the millstone of too many bad reviews, but this is art, and art is subjective. Some people get the good stuff, some don't. The Great Gatsby and Catcher in the Rye were ripped by contemporary critics of the day. Now those critics are mouldering in their boxes, reeking of cigarette smoke and formaldehyde no one will hopefully ever have to smell again. Although I only had one friend telling me to read Imperial Bedrooms, and the dim memories of some reviews I avoided back in June, I figured Mr. Ellis was worth my time and money again. I grabbed a first printing, and headed to the register.
I brought the book to the register. The cashier asked for twenty-eight dollars. "Wow," I blurted involuntarily. "Are you kidding?" It wasn't discounted, and California tax had almost taken me for close to $30. Instantly, I heard the old Woody Allen joke from Stardust Memories. "The worst thing you could ever do in my family was to pay retail," his character says in that film. When you're alone in Los Angeles, in need of a literature fix, and missing the woman you love, full retail price doesn't seem so bad.
It might be mentioned here my small company once had a Borders corporate discount account, but it had "expired." One day, the card stopped working, thanks to the geniuses at the home office in Ann Arbor. As a thanks for my loyalty, I was cut off. Suffering from a serious book habit, I went from spending at least three hundred bucks a month there for years to zero. In the way I stopped shopping at Barnes & Noble when they executed their Walmart strategy of hook and hike, I cut Borders out of my life. All retailers have a right to charge what they want, and customers have a right to shop wherever they want. That's part of the fundamentals of capitalism. Ask Bennett S. LeBow, CEO of Borders. He's a corporate raider, and has infinite more experience with different corporations than Lenny Riggio. He's also an electrical engineer. I need some track lighting installed. Maybe he can help me out when I get back to New York.
Benny LeBow will be happy to know I did pay full price that night at Borders. With their Kobo e-reader down to $130 and struggling for market share, he needs all the help he can get. Here's some other pricing facts.
Borders is also selling an unabridged audio version of Imperial Bedrooms for $25.00.
Audible.com is charging $18.90 for the same unabridged audio version.
The e-book version on Amazon is a hair under ten bucks.
Two out of three with a considerable savings over the full retail price for a first printing. Is there any wonder dead tree versions of books will be a thing of the past? Makes me wonder what authors will sign at readings aside from autograph books and copies of obscure literary journals their work has appeared in.
It's time to leave Los Angeles, and I'm ready to go. The woman I love is waiting for me, and keeps me going with encouraging phone calls and text messages. She will be unconscious in our bed when I get there, and that will be fine. There are poems to write and our comfortable home to keep improving bit by tiny bit to make us both happier in it. The next time I'm in L.A., I hope it's with her. Maybe then I won't have that horrible feeling driving around the great basin, where all the towns look alike, street after street, the sunlight unforgiving. On this trip, if I had come across a billboard that read "Disappear Here," it would have been perfectly okay if I could, right at that instant.