Stephen Dobyns' Blurb
by
Egatz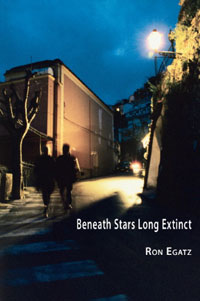 I felt very fortunate to get a blurb for Beneath Stars Long Extinct from the literary powerhouse that is Stephen Dobyns. If you're not familiar with his work, Dobyns is worth looking up. Here's a paragraph of his achievements we've used on the Camber Press site when he judged our poetry award a few years ago:
Stephen Dobyns has published twelve poetry collections (including Velocities: New and Selected Poems, 1966-1992 and Mystery, So Long), ten novels (including The Church of Dead Girls and Boy in the Water), one collection of short stories (Eating Naked), ten mysteries in his Charlie Bradshaw detective series, and the highly recommended nonfiction book Best Words, Best Order: Essays on Poetry. His poetic works count among them a Lamont Poetry Selection (Concurring Beasts), a National Poetry Series award winner (Black Dog, Red Dog,) and a Melville Cane Award winner (Cemetery Nights). He has received fellowships from the National Endowment for the Arts and the Guggenheim Foundation.
While recently touring for Beneath Stars Long Extinct in North Carolina, a literature professor said to me after my reading, "You know Stephen Dobyns rarely blurbs books." It made me feel even more blessed. Never afraid, herewith the witty blurb one of America's most brilliant writers issued for my book.
"The poems of Ron Egatz are crisp, risky and slightly peculiar. As well-built as a brick crapper, they are a pleasure to read. Like the U.S. Postal Service, they deliver in all weather."
Love it. Thank you, Herr Dobyns.
Related Posts :