How I Spent 2016
by
Egatz
Hard to believe, but I'm still receiving some very nice emails from people interested in my writing and asking what happened to this blog. I haven't been thinking about The Egatz Epitaph much in the past year, but I have been writing. Here's some random highlights of my year.
Working on this novel. The photo shows what's completed. When I use the term completed, I mean done. Edited and proofread many times over. Now I just need the final push to the ending. My agent and longtime readers are waiting. The title is still a secret. Working title: Project Brenna.
Drafting notes for an interesting memoir about two women I've known. Legal action has already been threatened. More on this as it happens.
Making original music with people far more talented than I deserve to be playing with. Playing a guitar, particularly my own twisted take on jump blues, is the only time my brain moves into a different consciousness, and it's the best place I know.
A few assorted injuries and health scares.
Doing good things for my neighbors and the community of artists I live among. This is one of those rare instances where righteous persistence won. Plus, Bijou made it into the print version of the magazine with a photo and a caption.
Keeping notes on potential clients who've asked me to work for free. These include, but are not limited to:

the man who wanted me to interview 200 celebrities, write and edit their stories for a book, but wouldn't propose a contract or discuss writing credits.
the woman who wanted to partner with me on my idea for a knowledge base portal, but could never explain to me what her role was before, during, and after I design, program, and populate it for the initial launch.
the man who wanted me to write, direct, produce, shoot B-roll, and edit a full-length documentary about him next year. I was also supposed to figure out how to pay myself and my crew. "I'm not in the job creation business," he told me.

Watching Apple's abandonment of the professional / developer market as they continue their obsessive quest of form over function, although I don't write about it much these days, aside from some tweets.
After trying left-handed for two years, I got serious and stopped time. Yep. I might elaborate on this in writing at some point in the future.
Close to finalizing an original chocolate and toffee cookie recipe I've been working on for three years. Certain people delighted in making fun of me for doing this. Now outside parties are asking about bringing it to market.
Learning more life lessons from the little lady pictured below than anyone else has ever taught me. We're working on some screenplay ideas. Together. I'm not kidding.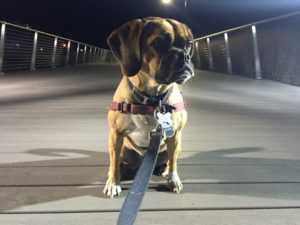 So long, 2016. It was the year the planet shed a lot of talent. It was the year Americans watched the Democratic National Committee rig the primary against the best chance the middle- and working-class had since Henry Wallace and escape prosecution. It was the year our own humanity and self-preservation failed us. Good riddance, 2016.
Related Posts :