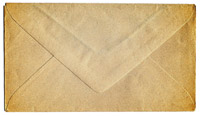 Kids, don't try this at home. You're about to read the worst advice a young writer can ever hear.
For the past decade, or so, I've rarely submitted unsolicited writing to publications of any kind. I feel pretty fortunate some editors seek me out. The ones who do are the ones who've published me better than 90% of the time for the past ten years, or so.
As the poet Thomas Lux said to me, "Ronnie, editors are not going to come into your home and open your desk drawer to search for poems." Even spending an hour a week getting your submissions in the mail is critical (if you're ready to be published), but my track record proves I'm incapable of even that.